Learn how to build your own CrossFit gym at home, find the best CrossFit home workout equipment and save money.
While attending regular CrossFit classes is fulfilling and motivating, not to mention the positive social aspect, it's not always possible to find time for a class. Or maybe the schedule at your local box doesn't always suit you. What do you do if you want to practise some lifts or techniques outside of the regular CrossFit programming? If your local CrossFit box doesn't have "open gym" hours, you can always set up your own home gym.
Even with a minimal budget, you can still build the perfect CrossFit-style studio at home. Even for CrossFit newbies and more experienced athletes, I'll show you the minimal amount of equipment you'll need and how to avoid spending a fortune. But I should point out that everyone's situation is different. Some people have a spacious garage they can kit out. Others have backyards. Many keen CrossFitters live in tiny apartments where it's impractical to build a rack or drop heavy barbells. Pick what works for you. Adapt and survive.
During the coronavirus pandemic, many people are struggling to find time and space to train. Dumbbells are in short supply and sometimes it takes a bit of ingenuity to create a similar training regime to the one you're used to. But even when we're not in the middle of a crisis, it's worth investing in some must-have Crossfit gear to make home workouts effective and enjoyable, just in case you need an extra workout but can't make it to the local box or gym.
Basic CrossFit equipment for home & Free or Cheap Alternatives
While most people would love to have the best of the best equipment in their garage gym or home workout studio, it's not always possible. So while I've listed the essential CrossFit equipment you should buy, I've also included free or cheap alternatives so you can save a few dollars on fitness.
Dumbbells
At the bare minimum, you will need dumbbells. Relatively inexpensive, compact, and durable, dumbbells are one of the best tools you can get for creative home workouts. You won't need to spend lots of money. A single dumbbell goes a long way. Read this post for some dumbbell workout ideas.
Ideally, you'll want a super heavy dumbbell for goblet squats, cleans, and Romanian deadlift movements. A lighter dumbbell works for overhead squats, Turkish getups, and shoulder presses.
Pull-up bar
This is a tricky piece of equipment for many home fitness enthusiasts. Not because they are difficult to find, but because it's sometimes hard to find a place at home to securely mount a pull-up bar. The last thing you want is to fall from a height when the bar that you thought was securely fastened turns out to be loose.
Many rigs come with pull-up bars and some racks do too. If that's not a practical solution you can try the small-profile Rogue Jammer pull-up bar.
Designed to be mounted above a doorway (and out of sight), the Jammer is perfect for people with limited space.
Alternative: place two towels over the top of an open door and then close the door. Grab a towel in each hand and pull yourself up. This is not only great as a back workout, it's also a killer forearm and grip exercise.
Gymnastic rings
We're big fans of the humble gymnastic rings. While rings exercises can be hard for beginners but they are excellent tools for building core and upper body strength. Just check out the shoulders and arms on Olympic gymnastic ring specialists!
Wood is good, when it comes to rings. If you're using your rings outside, plastic might be a better option as it will withstand the elements a bit better. But otherwise, we recommend using wood. Chalk for extra grip on your hands plays well with the natural wood of the ring.
Width considerations: go for 1.25" diameter as it's easier to manage and is the standard used in CrossFit events. The smaller, 1.1" diameter rings are designed for gymnasts. We find these much harder to work with.
Check out this guide to gymnastic rings for CrossFit.
Battle Ropes
If you have the space outside, battle ropes are a cheap piece of kit that will help you get fit fast. Battle rope workouts take you from fitness level 1 to 10 in no time. They also work the core stabilisation muscles, arms, and shoulders in a way that will have you aching for days.
Onnit Battle Ropes are well priced compared to the other offerings. There are 4 options to choose from (40' x 1.5', 40' x 2.5', 50' x 1.5' and 50' x 2.5'). Take your pick!
You can also use ropes for climbing and lifting kettlebells. Check out this guide to setting up your battle ropes.
Alternative: grab a few lengths of old rope or order some ropes from your local hardware store. Braid them together for a DIY battle rope that will last you a while.
Rope Climbing Gear
There's no doubt about it. Climbing will get you fit and build forearms like tree trunks. If you have a beam or solid bar high up in your space, then a mounting bracket isn't required. Just loop the line over and tie it.
Remember to stretch out the forearms and smash the muscle with a lacrosse ball or "mobility" ball after rope climbs. It really helps.
Weight Bench
It's rare to see a weights bench workout in a CrossFit class or WOD. But you're not at the box so you can do what you want, right? If you want to work those pecs or shoulders, you can. And there's no harm in mixing up the workout style every now and again.
A solid weights bench can be used for a number of different exercises. For example:
Bench press
Incline shoulder press
Dumbell rows
Triceps extensions
Alternative: Any low platform or box could be modified to act as a weights bench. Just make sure you support your back, neck, and head. You can also push weights directly from a prone position on the floor. This is a common technique used to mix up regular press techniques.
Plyometric Box
Jumping and other plyometric training exercises are excellent for building strength and power. Jump training increases muscle strength and explosiveness and that's good news for CrossFit athletes. But don't go bouncing up on your sofa, table, or bed. A plyometric box will not only save your ankles but will save your furniture, marriage, fill-in-the-blank.
Rogue Fitness offers the best-in-market options for Crossfit jump boxes. The solid, wooden ones will set you back around $120 but the foam versions are more versatile (and easier to land on).
Alternative: if you have a weight bench already, this is one option. A solid platform at the right height will also work. You can also build your own box from wood if you're handy with woodworking tools.
KettleBell
Who can deny that a kettlebell is a great piece of workout equipment? Use it for overhead lunges, swings, kettlebell power snatches, shoulder presses, and many more exercises you'd see in a typical WOD.
Another compact tool with lots of potential.
Alternative: A milk jug filled with sand. While this is pretty much a DIY kettlebell, it has its limitations. Apart from regular kettlebell swings, movements are difficult to perform thanks to the weird-shaped handle. But at a pinch, it's a viable alternative to expensive equipment.
Barbell and bumper plates
What's CrossFit without barbells and plates? You can only last so long training with dumbbells. There's nothing like working with a heavy barbell to increase strength and fitness.
As you're primarily interested in CrossFit, there's no need to go for a specialist powerlifting bar (these bars are larger in diameter). An all-purpose or Olympic bar is what you need for better rotation (spin) when cycling through cleans and jerks, snatches and other typical CrossFit movements.
One of the most popular weightlifting bars in CrossFit gyms is the Rogue Ohio (so named because it's manufactured in Ohio). This stainless steel masterpiece is virtually unbreakable and will last you a lifetime if you take care of it. It's easy to find bumper plates for cheap on the internet, but cheap equipment will break. Look for high-quality plates so that you not only get longer use from them but you protect the bar and your workout surface. Not to mention protecting yourself from mishaps. Rogue's colour-coded bumper plates are a favorite in many professional and home gyms.
Always use over a padded surface, gym flooring tiles, or grass to prevent damaging your plates or damage the surface you train on.
Jump Rope
Finally, don't forget to include a jump rope if you haven't already got one. They're lightweight, relatively inexpensive, versatile and you don't need much room to do jump exercises.
Check out our guide to the best CrossFit jump ropes.
Crossfit rigs and racks
This is for people who are quite about their fitness, or have a lot of space or money. Don't buy one of these if you live in a tiny apartment in New York, for obvious reasons.
But if you have space and the budget, a rack at home will let you work out on your schedule. Especially handy if your local Crossfit box does not offer open-gym sessions. Get those squat reps in when it suits you. Want to do multiple sets of deep squats at 5 am? You can. A rig or a rack is a CrossFit garage gym essential. No self-respecting CrossFitter with space in their garage would be without one 😀
Rogue Fitness, a name synonymous with not only quality products, but the CrossFit brand, build some of the finest rigs, power racks and squat stands for home CrossFitters. You can even order wall mounts to give you a place for pull-ups, muscle-ups as well as squats and other barbell work.
All Rogue Fitness products are manufactured in the USA, come with extensive warranties and all orders over $5000 ship for free.
On certain rigs (Monster Rig and Monster Lite Rig), shipping is waived on those products and everything else you order with it. Order as many heavy dumbbells, kettlebells and barbell plates as you like and don't pay the usually steep shipping fees.
The company also has stores for Canada, Europe, and Australia so you can order closest to your location.
Crossfit home gym package
A great way to save on costs and get most of the stuff you need for doing strength training and WODs at home is to order a CrossFit home gym package.
Rogue has many different home equipment packages to choose from but we particularly like the CrossFit Warrior set which gives you Olympic bars, kettlebells, rowers, rings, slam balls, and pretty much everything you'd need. It's a one-stop-shop for a complete gym.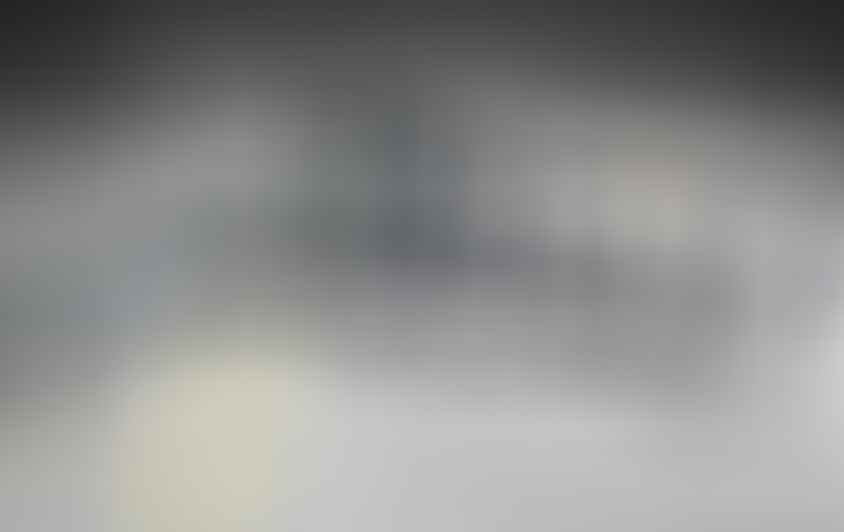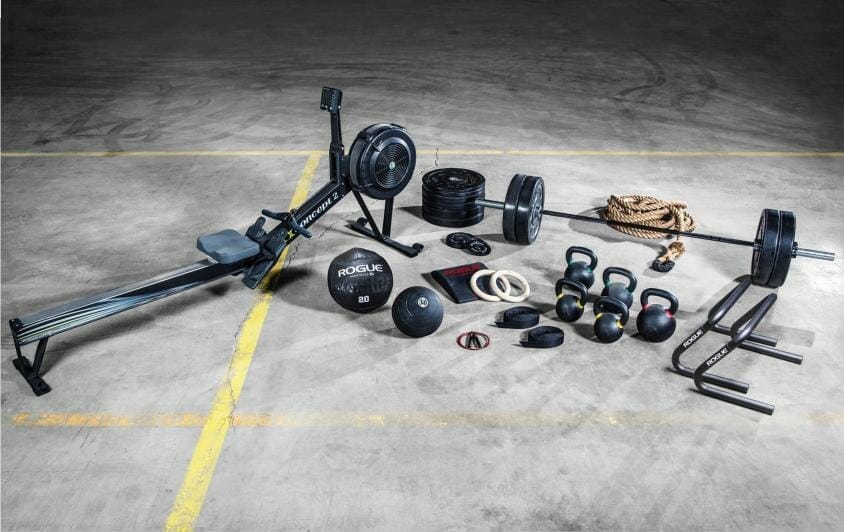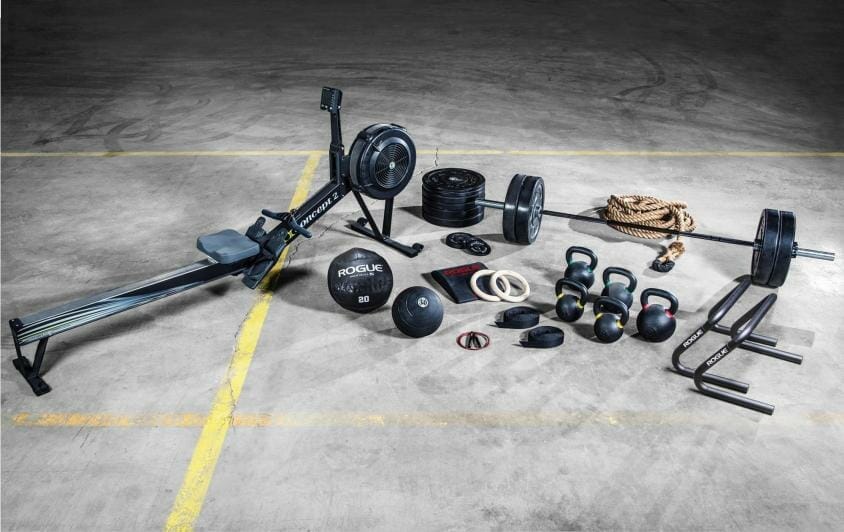 CrossFit Bikes
You've got a ton of choices when it comes to picking the best CrossFit bike for your home gym. The classic Rogue Assault Airbike, the same stationary bike that puts fear into the hearts of every CrossFitter, is a good choice. Warning: regular use will get you seriously fit.
A great alternative is the Bowflex C6 Bike. This is suited to people who like a riding experience similar to road bikes. But it's more than that. You also get heart rate monitor, Bluetooth connectivity (for Peloton, Zwift, and Explore The World apps), a dual-sided pedal, and more.
Fitness Trackers
I'll admit it, there was a time when I thought fitness trackers were gimmicks. A waste of money. But now I realize they can be an integral part of the CrossFit experience. If you are reading this article, you should get a fitness tracker. Here are a few of the best fitness trackers for home CrossFit workouts.
Mobility tools
The essential mobility tools for pre- and post-workout mobility exercises are
Lacrosse ball or mobility ball – the ultimate weapon in finding and destroying knots in muscles
Foam rollers – the standard gym mobility equipment. Often abused but this is a serious tool when used properly.
If you have room for some more pieces of equipment, take your pick from the following:
Trigger point rollers – hit those knots and tight parts of your legs, thighs, back, and shoulders.
MobilityWOD stick – improve your shoulder and arm mobility with dislocations and other movements.
Trigger point Nanos – get at those hard-to-reach parts of your body that need a little bit of myofascial release therapy
Stretch bands – use the elasticity of a band to gently stretch and strengthen limbs.
Mat – save your knees – use a yoga-style mat!
If you need guidance on mobility drills, check out ROMwod or The Ready State.
Workout Timer
This isn't exactly essential, but it is very cool. And there's nothing like the authentic red-light LED timer on the wall to spur you into action. Turn your home gym into a place to work hard against the clock.
Check out the GymNext Flex Timer clock and mobile app for home or gym.
Where to Buy CrossFit Equipment
There are a number of high-quality suppliers that offer great home workout products.
USA & Canada:
Rogue Fitness – Supplying the CrossFit and general fitness community with some of the world's best products at the best price.
Onnit Fitness – For some completely different fitness products aligned with the CrossFit ethos. How about incorporating medieval mace swings or Persian steel clubs into your WOD?
Bowflex makes some of the coolest and smoothest bike ride experiences with the Bowflex C6 Bike. It also connects with the Peleton app so you can get that Assault Bike-type burn.
UK & EUROPE:
Rogue Europe – Reliable equipment from a company that has grown with the CrossFit brand from the beginning.
Bulldog Gear – Bulldog Gear is manufactured and shipped from Bulldog Gear's headquarters in the UK. The company offers global shipping so get in touch if you're outside Europe but would like to try some of the tasty training equipment.
BLK BOX in Ireland stocks a wide range of products including anti-slip flooring tiles, squat stands, and home gym essentials like medicine balls, adjustable benches, and ropes.
AUSTRALIA:
AlphaFit – Stocking everything you might need and currently still shipping. All rigs and racks are 100% Australian Made and customers can design and customise equipment. What are you waiting for?
💪 Sorry if we've left out anywhere but many of these websites have international stores and can ship directly to you. There's also Amazon's CrossFit Home Equipment category, which isn't a specialist in CrossFit gear but does offer some of the best shipping deals, price range, and customer service.