The first time I tried CrossFit I left the class a little baffled. Were these people speaking an in-house code system? Thanks to training alone for many years, I believed I'd missed out on learning the new fitness terms. I quickly realised that in CrossFit there was a whole new world of acronyms I had to learn. If you're in the same boat, don't worry. I've put together a breakdown of the CrossFit abbreviations and terminology for you. If you need a primer on AMRAP, EMOM, & WOD, here's your guide.
WOD
This is the one you'll hear and see written on the board the most. It stands for Workout Of the Day and refers to the engine/cardio-focused high-intensity workout that everyone performs to finish off an hour of CrossFit class.
An example of a WOD could be 6 rounds of 10 dumbbell presses, 20 air squats, and 10 kipping pullups.
MetCon
Short for Metabolic Conditioning. Even seasoned CrossFitters often can't tell the difference between straight cardio/engine workouts and the MetCon.
"Cardio", as we all call it, is characterised by long periods of training time, ability to improve stamina, and low-moderate intensity. A jog, swim, bike session, or skip rope workout are examples of cardio training.
MetCon refers to a high-intensity, short workout that makes your lungs and heart scream. The intention of MetCon training is to speed up your metabolism, hit your cardiovascular system hard, and help your body burn fat.
Sprints, interval training, shuttle-runs and anything that requires almost 100% intensity can be called MetCon training.
The evidence suggests that MetCon training builds strength, burns fat (after working out), and speeds up the metabolism much better than cardio. Maybe you've heard of HIIT training or Tabata Workouts. Same thing. All are workouts designed to condition metabolic pathways.
AMRAP
As Many Reps As Possible. AMRAP workouts take place within a certain time-frame and the ideas is to pump out the maximum number of repetitions of one or more exercises before the timer ends.
Example: 10-minute time-cap. 60 double unders, 10 cleans, 10 deadlifts. Complete one set and repeat.
The AMRAP count is the total number of reps accumulated in 10 minutes.
Double Under (DU)
This one's easy to explain. But a lot trickier to perform. With double under the skip rope must pass under your feet twice for every jump. You can skip, right? Well instead of jumping once when the top comes around, jump twice. Many people struggle with this exercise, and that's why it's often called 'struggle under'. Even good CrossFit athletes can find the DU a challenge. The only way to get it is to keep practising until it's like walking. Practise a little every day. Don't get discouraged. It could take months but it's worth the effort.
Snatch
This exercise can get a snigger outside of CrossFit circles. I'll leave you to Google the other meanings. The Snatch is known as the fastest lift. It's the quickest weightlifting technique employed to get a barbell from the floor to overhead. Unlike the clean & jerk (see below), the snatch is a single movement. It's also one of the most difficult exercises you'll encounter. To perform a solid snatch you'll need not only strength, but agility, mobility, and precision timing.
EMOM
Every Minute On the Minute. A type of protocol in CrossFit that calls for a movement (or series of movements) every minute on the minute. Once the athlete completes the movement or exercise, they can rest the remaining time in the minute. An EMOM of 12 minutes is one complete task on the minute for 12 sets. You can't compress the 12 sets into one continuous workout. An example might be an EMOM of one full snatch with 115lbs weight.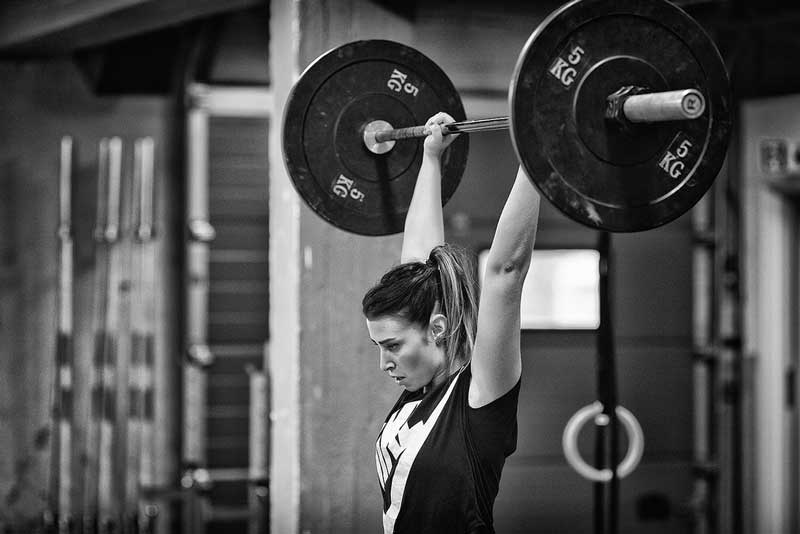 Rx
Pronounced as each letter "R X", Rx means to complete a workout or exercise at the prescribed weight set by the coach. If the maximum weight for men is 80kg for a clean, then this is the Rx weight. The scaled version might be 50kg. Men and women have their own Rx numbers. Rx can also mean the number of repetitions and the version of an exercise.
A pull-up can be performed strict, with kipping, on rings, jumping start, and many other variations. The coach sets the Rx level (the most difficult) and the easier variations are called 'scaled'.
Rx is often used as a noun. Did you Rx the WOD? Sounds like a different language to the non-initiated, right? The question translates as, "did you use the prescribed weight in the workout of the day?" To Rx something means to use the maximum prescribed weight or rep scheme.
Kipping
The kip refers to the use of momentum to complete a movement such as pull-ups, dips, and handstands. Performing movements with strict form (no momentum or explosive strength) requires a lot of strength. Many people are unable to do strict pull-ups but if they use momentum by controlling the swing of their legs to lift their torso higher, the movement can be completed. Kipping has a bad rap in circles outside (and inside of CrossFit) for being dangerous for beginners. It's not strictly a beginner movement. It's a way of performing reps faster and is really used for WODs and competition. Beginners should try to perform strict movements before the kipped version, but
Thruster
Even if you've spent a lot of time in a gym or worked in a gym, the word thruster might not be familiar to you. The thruster is an exercise that involves thrusting a weight from the squatting position to overhead in a standing position with arms outstretched. It's a tough movement and one that tests your strength, mobility, and endurance.
PR
Another acronym that often gets used as a verb. A PR is a personal record. Outside of the United States people also use PB, for personal best. To PR something is to improve your best score, lift heavier than you have before, or complete a WOD in a personal record time.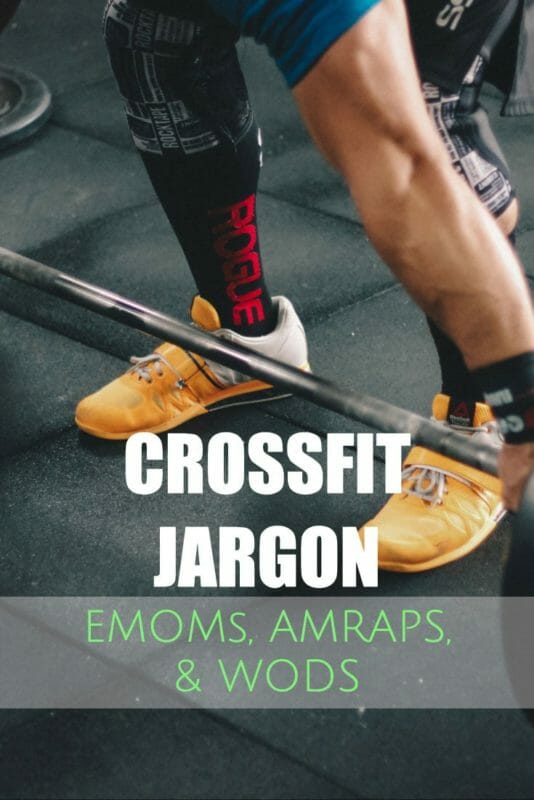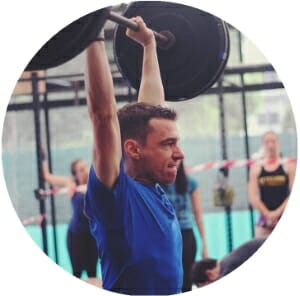 CrossFit fan. Ex-personal trainer, triathlete, and cross-country mountain biker. Masters Competitive CrossFit athlete. Writer and blogger.