"Take the load off your feet, have a seat". This helpful advice suggests to us that the act of sitting down will alleviate the stress on our feet caused by standing or walking for long periods. Sitting does actually take the load off our feet. But just as energy cannot be created or destroyed, only turned into something else, the load on your feet must be transferred somewhere else once we sit down.
Where does the burden of gravity go? It moves from our legs to our spine, making our spine bear a load. And as anyone with back trouble knows, the spine hates to work harder than it needs to. Find out why squatting or sitting on the floor is better for your health than sitting. Always.
Sitting is Bad. Why Squatting is Better than Sitting
Sitting is not good for us. Being seated is not an optimal posture for our bodies and although the phrase 'take the load off' refers to relieving of pressure on the feet when seated, it certainly doesn't apply our spine.
There three main positions that we find our bodies in every day: seated, standing, and lying down. Each of these positions puts a different amount of pressure on the back. When lying down the pressure on the spine is less than when standing and much less than when seated. Sitting and leaning forward simultaneously puts huge demands on the spine and the difference between this position and standing or even sitting properly should make unsettling reading for those that regularly adopt this posture at work.
Squatting to use the toilet is the most efficient and healthy way to sit for pooping. Sitting on a toilet puts the elimination canal in a kinked position. We just weren't designed for this. If you can, use a raised foot position to help poop. A squatty potty is an ideal hack for this.
Shoes – The Curse of the Bad Back
In some non-western cultures that are unaccustomed to wearing shoes, the people are almost completely free of the foot problems that plague western high-heel and boot wearing cultures. Shoes are a necessity in our modern age but they have created as many problems as they have prevented. As the very act of sitting for long periods of time at work is a modern first-world affliction we should take a look at certain other cultures and compare their 'non-sitting' lifestyles to ours to see if they have healthier spines …..
Squatting, the act of sitting down supported by your own body is a common daily feature of life in Asian countries. It's unheard of in Western societies. If you've ever seen pictures of street sellers by the roadside and people that have been queuing for long periods you'll notice that they are usually squatting rather than sitting. Squatting is quite a natural position for these people, and it's a comfortable one. For most westerners squatting is very difficult and uncomfortable. Research has found that people of certain cultures have bone structures in their legs which support squatting but this is a result of their actions rather than a genetic trait.
In the squat position as opposed to the seated position the pressure on the spine is reduced (to note: the squat position is a far healthier way to position yourself for toilet functions – modern toilets don't give us the option) and it's worth putting your body in the squat position regularly to benefit your back.
Stretches and Mobility For Squatting
Try this stretch every day:
From a standing position sit back slowly as if there was a chair behind you. Put your hands out in front for balance.
Continue sitting down (squatting) and try to go past the position where your upper legs are horizontal. This is difficult but a little stretching every day will help.
As your butt begins to reach the floor your arms will naturally rest on your knees. Keep your head up and facing forward. The soles of your feet should remain in contact with the floor. Feel the stretch in your low back and try to relax while sitting on your haunches.
Hold for 20 seconds and return slowly to standing position by pushing through the heels and engaging the abdominals to push yourself upwards.
Repeat, increasing the time in a full squat and the number of repetitions as you become better at this technique.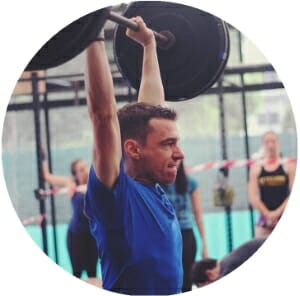 CrossFit fan. Ex-personal trainer, triathlete, and cross-country mountain biker. Masters Competitive CrossFit athlete. Writer and blogger.