Did you know that the knee is the third most common area of the body to be injured in CrossFit WODs? According to a study in the Orthopedic Journal of Sports Medicine, knee injuries come just after shoulders in the top 3. So what should we do about it? Obviously, fans of the sport (like us) are going to keep on doing it. Other sports have similar rates of injury. But there are a few things we can do to mitigate the effects of intense workouts on our knees. Wearing knee sleeves while training will keep you training longer and harder. This knee protector isn't the answer to every possible issue but it is a great tool in the defence against training downtime.
In this article, we'll review some of the best knee sleeves that every athlete should consider. At the same time, we'll answer all your questions to help you pick the right one.
The Best Knee Sleeves for CrossFit
While a knee sleeve might seem like nothing more than some neoprene, there's a bit of science and design behind the construction. Everyone is different. Everyone trains differently. And there's a best knee sleeve for each individual. Be sure to pick the right piece of equipment (and it should be considered essential equipment) for your needs. Check out our top picks. Be safe!
Rogue 5MM Knee Sleeve
These 5 mm knee sleeves are available on the Rogue Fitness website with several thicknesses and colors available.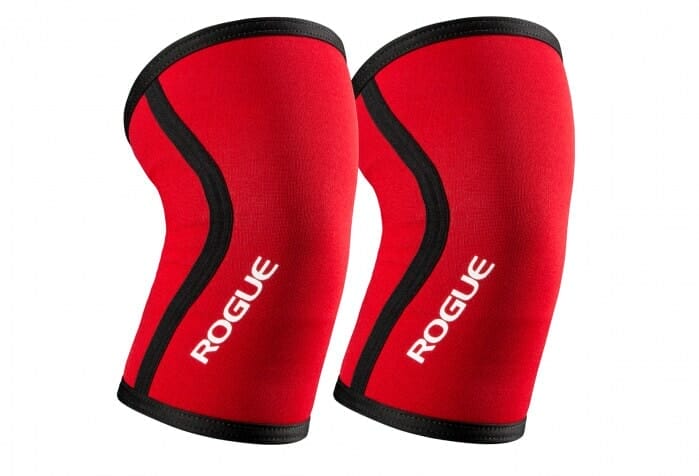 The SBR/neoprene blend construction provides firm yet comfortable support that won't affect your range of motion. As with most Rogue products, the sleeves are made in the United States and come with a 30-day refund/replacement policy. They're also good value compared to similar products of the same quality. And Rogue generally offers deals when you combine the sleeves with other products on the website. And don't forget the free shipping for orders over a certain dollar amount.
The flexible compression stabilizes your joint during rough movements to protect your muscles, tendons, and ligaments. They're by far the best knee sleeves for squats and other leg-intensive sports.
Pain and discomfort will be reduced during, and after working out, so you can practice sports a little longer. The natural contoured fit and flexible seams won't irritate your skin. These sleeves are sold in pairs.
In case of an injury, the sleeve will provide warmth and compression to accelerate healing and reduce knee pain. They won't roll and will stay in place, so they're suitable for all athletes. However, the sleeves tend to run a little snug, so you might need to size up.
5mm thickness sits in the middle of the range for knee sleeve thickness. 3mm is typical good for "light" sports like jogging. 7mm is for heavy lifting. 5mm works well for CrossFit and sports that not only require strength but agility and speed. If you find that you need a bit more support, these sleeves might not be the best option as there's no choice in thickness.
What We Like
Made in the USA
Compression sleeves.
Flexible and contoured construction with comfortable seams.
Provide warmth and compression to relieve pain and pressure.
Accelerate recovery.
Sold in pairs.
What We Don't Like
Can be a bit tight based on the sizing chart. If in doubt, go larger!
Iron Bull Strength Knee Sleeves 7mm
Whether you're interested in heavy lifting, Cross-training, powerlifting, or squats, this Iron Bull Strength product will help stabilize your knee joint and protect you from painful and dangerous injuries. The sleeves are designed for both men and women and are available in multiple cool colors. Moreover, there are 5 different sizes up to XXL, so they're suitable for heavier people. With 7mm of thickness, this is not a sleeve for runners or for yoga-mobility fans. It's certainly an alternative to the Rogue model above for people that need that extra support. But if you're doing a lot of box jumps, burpees, and sprints, 7mm might be overkill.
Featuring 7mm of Neoprene flex-material, these sleeves limit joint movement while increasing stability and strength. Great for bodybuilders and powerlifters but also good for heavy-hitting CrossFit athletes. Iron Bull's "3-D design" appears to be nothing more than a better fitting product. We can't argue with that. And there's nothing wrong with buzz-word branding. In the end, the product does provide excellent protection for your knee joint. Moreover, the sleeves will help warm up your knees and reduce discomfort from cold, achy joints.
The anti-slip technology (another buzz-word – this time for two silicone gel straps at either end) keeps the sleeve in place and prevents accidental rolling (a common problem where the ends of the sleeve roll back on themselves). These gel straps do a pretty good job of preventing this rolling so you won't have to adjust them. Note that the more you sweat, the better the material will cling to your leg. Some users might find them too hot for comfort.
All Iron Bull knee sleeves are on the USPA approved list. The Amazon.com listing states that the sleeves are also IPL approved and the Iron Bull website makes a reference to this, but we can't find this detail on the International Powerlifting League website. 
What We Like
Wide range of colors and sizes available (5 sizes, 8 colors)
Contoured fit to protect the knee from all directions.
1 year warranty
No questions asked refund for unsatisfied customers
What We Don't Like
A slightly odd smell from new sleeves might be off-putting (we'll admit that this isn't too much of a disadvantage)
Some owners complain of overheating and excessive sweating. This might suit you, though.
Rehband Rx Knee Support – 3mm
These sleeves are thinner than the others in this review. According to Rehband, 3mm thickness sleeves are favored by runners and endurance sports athletes. But how does that help a CrossFitter? Well, for light workouts or WODs with plenty of straight-line movements or mostly upper body exercises, 3mm might work best.
This sleeve should make you feel comfortable and secure in any activity apart from heavy lifting workouts. The 3 mm neoprene offers flexible knee compression while improving coordination for any activity. There's even a Rich Froning edition of the sleeve. Whether Rich uses them on a regular basis is unknown but many CrossFit athletes, both beginner and advanced, use these particular sleeves and are very happy with them. They fit very well and offer more than just pleasing aesthetics.
The anatomical fit is patented, making this a medical-grade knee sleeve (the RX model is classified as a medical device). It's sold as a single sleeve, which makes buying two a bit more expensive than other models on the market.
The foam material is 70% styrene-butadiene rubber (SBR) with 30% Neoprene. This is similar to the materials used in Rogue products. The lining and cover are 100% Polyamide (similar to Polyester but with better feel – something you'd want for close skin contact). The seams are very comfortable and won't irritate your skin.
Whether you're trying to protect your knees from injury or are already recovering from one, this knee sleeve will help you avoid strain and overcome pain. You can move better as the sleeve promotes increased joint stability and higher muscle coordination. With the added support, you'll feel more confident, so you'll enjoy better performance.
What We Like
Flexible Neoprene/SBR material
Improves motion and muscle coordination – high mobility with support
Available in multiple sizes and color (7 sizes, 4 colors)
What We Don't Like
You only receive one sleeve, so it's more expensive than other products.
Tends to be big fitting. Choose a smaller size if doubt
Bear KompleX Knee Sleeves
Winning the award for the funkiest colors in any knee sleeve, the Bear Komplex product comes in 10 sizes (split between 5mm and 7mm thickness) and 11 fun colors. There's something for all sizes and tastes here.
To enhance better breathability, these sleeves are made of bamboo charcoal fiber. They're soft with 360-degrees support that protects you from excessive strain on leg day. There are two thicknesses available; 5 and 7mm and multiple sizes, colors, and patterns, so you can choose the right sleeves for your sport.
Each pair you receive will enhance the blood flow and promote faster recovery in case of an injury. At the same time, the sleeves won't restrict your range of motion, so you can feel more confident while working out. With the support of these sleeves, you'll be able to take your training to the next level.
These sleeves are suitable for both men and women athletes and have a good reputation with the pros. They stimulate muscle warmth and stability during the most challenging workouts. Although the single stitching is comfortable, it's less durable than double stitching that you can find on other models.
This is the only model made from a completely different fabric. Bamboo charcoal fiber is a fabric made from dried bamboo, burned in a super high-heat oven. The charcoal is then processed into cotton or polyester fibers. The fabric is reported to have antifungal and antimicrobial qualities. What that means to us in the gym is that sleeves made with this fabric will smell less offensive, have better moisture absorption, and will not stick to the skin during a hot, sweaty workout. The colors you see in the Bear KompleX Knee Sleeve are not from the bamboo charcoal (dying them removes the eco-friendliness) but from the other materials used in construction.
This knee sleeve can be considered the most eco-friendly and natural of all products on this list.
What We Like
Made of bamboo charcoal fiber for better breathability.
Soft sleeves with 360-degrees support.
Multiple colors and patterns available.
What We Don't Like
Single stitching isn't that durable.
Nordic Lifting Knee Sleeves
The Nordic Lifting sleeves are popular. With over 3000 ratings of over 4.5 stars (out of 5) on Amazon, rest assured that there are plenty of satisfied customers out there. There are six sizes to choose from and the price is the same for all sizes. Made from 100% Neoprene, these knee wraps provide adequate support for weightlifting and powerlifting. Designed as a premium weightlifting brand, Nordic Lifting meets the needs of professional and beginner weightlifters.
But what about CrossFit athletes?
At 7mm, there's plenty of support but this might be a bit too much for some people. If you're a lighter athlete who focuses on more cardio-based WODs, the Nordics might not be the best choice for you. However, they can be a great second pair choice for heavy fitness workouts. It's also a good choice for anyone wanting to protect an injury.
Whether you're an elite athlete or a novice, the sleeve will give you the needed confidence to push yourself a little harder without sustaining any injuries. It will also warm up your muscles and reduce stiffness, especially if you haven't worked out for a while, so it's considered as the best knee sleeve for weightlifting.
There are some complaints by owners of these sleeves that they are prone to rip at the seams when putting them on. You will, of course, be covered by Nordic's 1-year warranty covering manufacturer defects. There's also a 30-day no-hassle returns policy. Be careful when picking the right size, as they tend to bunch up if you're not wearing the right fit. The sleeves are made from Neoprene.
What We Like
Proper compression knee sleeves.
Sold in pairs, comes in 6 sizes and and 3 colors.
Keep your knees warm to promote faster healing.
Stabilize your knees during a heavy workout.
What We Don't Like
Limited colors that are not always available.
Knee Sleeves FAQ
What are Knee Sleeves?
Knee sleeves are designed to stabilize and protect your knees during a workout. They will prevent recurring injuries, and help with healing if your knee joint is already injured.
Sleeves are designed to provide compression that helps reduce swelling in case of an injury. The compression also stabilizes your knee during leg workouts like squats and weightlifting. They also help with jumping movements and exercises involving lateral movements shifts.
The thick material used in construction helps keep your knees warm. This helps improve blood flow and this improved blood flow drives more nutrients to the muscles and tendons of the knee and leg. The goal is to keep the knee joint in perfect shape and to accelerate healing in case of an injury.
What are the Benefits of Knee Sleeves?
Knee sleeves have a lot of benefits before, during, and after working out. Here are some reasons why athletes use knee sleeves.
Help warm up your knees before your workout to get them ready.
Help keep the knees warm to protect muscle from impact or sudden movements.
Increase blood flow and reduce pain.
Give you a little bounce at the end of a squat, so you can lift better.
May help reduce the pain from injury.
Knee sleeves provide lateral hold that improves the range of motion during various movements.
They have a direct impact on your mobility, technique, and mastery of movements.
How to Pick the Right Knee Sleeves?
When shopping for knee sleeves and to answer the question of how should knee sleeves fit, there are a few things that you need to think about.
Thickness
Knee sleeves are available in 3, 5, and 7 mm thicknesses. Each thickness is suitable for a certain activity but there is plenty of crossover between them.
The 3 mm sleeves will keep your knees warm, but they don't provide the most support, so they're suitable for endurance activities. Long-distance runners and swimmers prefer these sleeves as they won't restrict the range of motion. At the same time, they will protect the knees from injury and will promote better recovery after an extensive workout session.
If heavy lifting is your thing, go for 7 mm sleeves. If you're a mountain goat, stick with 3mm.
CrossFit athletes (always the all-rounders) prefer the middle number: 5 mm. This thickness is designed for activities where support and agility are of equal importance.
If heavy lifting is your thing, go for 7 mm. These provide maximum support and will stabilize your knees to protect you from painful injuries. They will also give you an extra push, so you can light heavier weights with no issues.
Materials
Most knee sleeves are made of neoprene because it provides the needed support that stabilizes your knee joints. SBD neoprene is a stiff material that holds your knee in place, so it's an excellent choice for CrossFit, weightlifting, and other straining activities.
Some materials are more flexible and will provide better breathability, so they will be suitable for running and other activities where you want to enjoy a good range of motion. They will also provide some support, so they can be worn during different exercises. Bamboo charcoal is a good example of this,
Spandex and nylon provide minimal support, but they will keep your knees warm. These sleeves can be worn for a long period as they're more comfortable. However, they won't stabilize your knees or protect you from serious injuries if you're weightlifting.
What size knee sleeve do I need?
According to Rogue, these knee sleeve sizes should be selected based on the circumference (measured 10cm below the knee cap) of your upper calf. Size XS for 31cm to 33cm, size S for 33cm to 35cm, size M for 35cm to 37cm, size L for 37cm to 40cm, and size XL for 40cm to 43cm.
To find your kneed sleeve size in mm, convert by multiplying the cm value by 10. Example: 31cm = 310 mm.
| Size | XS | S | M | L | XL |
| --- | --- | --- | --- | --- | --- |
| Upper Calf Circumference | 31CM – 33CM | 33CM – 35CM | 35CM – 37CM | 37CM – 40CM | 40CM – 43CM |
Source: Rogue Fitness
Wrap Up
A knee injury won't only force you to stop working out; it can also lead to serious consequences that can keep you away from the gym for a very long time. We chose the ROGUE 5MM KNEE SLEEVE as our top choice because it's designed for CrossFit and other sports where agility and support are equally important. And of course, they are built to last and designed to protect.
Invest in good knee sleeves because they will give you enough confidence to take your exercise regimen up a notch. Always remember to take care of your knee sleeves. Wash and dry your knee sleeves. Don't leave them folded. By taking care of them, your knee sleeves will support your training for years to come.