Need a gift for your CrossFit team buddy, WOD partner, significant other, relation, or random internet person? Here are some ideas.
The complete guide to buying gifts for people that probably don't need anything
Weightlifters, CrossFit athletes, and Olympic weightlifters are the type of people that associate closely with their chosen tribe. There's terminology, a way of talking, a lifting protocol, clothing, attitude, and equipment that goes along with each form of training. CrossFit generates the kind of tribe attitude that deserves its own genre of gifts.
Gifts For CrossFit Guys & Girls
But even if you're immersed in the culture of each tribe or you're familiar with someone that participates in some form of lifting, it's hard to choose a gift to give. Maybe it's a Christmas present, birthday gift, congratulations, or otherwise. What to buy? The job becomes harder when the proposed gift receiver doesn't follow trends, have other hobbies, or have an interest in other things.
We know that buying gifts is tricky, especially for the guys, right? But we're here to offer some suggestions based on personal experience, market trends, sales data, and general finger-in-the-air instinctive guesswork.
So here are 10 cool CrossFit gifts for him or her that will make any CrossFitter do handstands and burpees with joy.
1. Smartphone Holder
Ignoring the risk of this post encouraging the selfie obsession, I do believe that it's important to record your workout performances and your olympic lifting and gymnastic techniques.
It's a bit hard to hold a camera phone while doing a handstand or snatch (one-handed snatch?) so we recommend using a smartphone mount.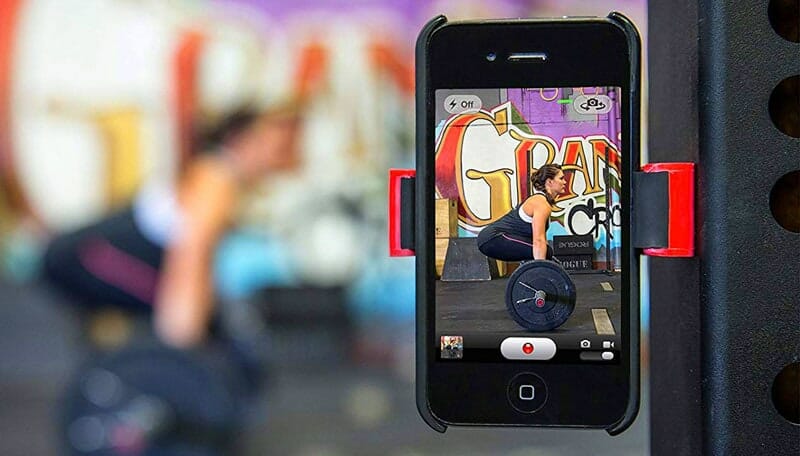 The Perchmount is compatible with the iPhone, Google Pixel, Samsung Galaxy and the usual suspects. Great for anyone looking to improve their technique through hands-free smart phone video capture.
Clamp your phones to the rack and start impressing people with your video uploads. Or rather, this is what you're friend will do with their gift 😉. Remember, giving is better than receiving.
2. Wrist Wraps / Wrist Wraps
Easy to buy, easy to ship, easy to deliver. Wrist wraps are probably your best bet for a simple, no-nonsense workout tool for any weightlifter, CrossFit athlete or powerlifter. Most of us need wrist straps and over time, they wear out (especially if you're a hard trainer). It's always good to have a spare set on hand. People lose their wraps too, so a backup set as a gift will be welcome.
The quintessential CrossFit wrist straps, the ones you'll see in all the photos are made by Rogue. Rogue's wrist straps not only look cool but they've done the sweat test millions of times.
3. The Gift Of (Self) Massage
A massage is the ultimate recovery tool. The gift of massage is like the gift of health.
Who doesn't love a good massage?
But massage vouchers can be expensive and they only last as long as the session. A foam roller is for life, as they say ☺️.
Deep recovery tools like the humble foam roller are great for self-myofascial release, and way cheaper than a massage if you spread the use out over years. Physios, osteopaths, and other folk that work on your muscles and joints recommend them.
IT bands (that's the iliotibial band, not some pop group), hamstrings, and quads will love it. Not to mention foam roller effectiveness when it comes to loosening up those massive lats.
Go the extra mile and buy an eco-friendly, non-toxic, 100% cork-based foam roller. It's not only good for the environment, but it looks cool. Make someone stand out in CrossFit class with this gift.
If you want to get fancy, this one vibrates. It's like a vibrating massage with deep tissue release combo.
4. Supple Leopard Subscription
CrossFit puts a lot of strain on the muscles and joints. And all Crossfitters stretch and mobilize on a regular basis.
At least that's what they should be doing.
For the CrossFit lover in your life who finds it hard to get in the lizard stretch or go full couch stretch, a subscription to MobilityWOD might do the trick. MobilityWOD is an online resource for optimizing performance & improve mobility. Kelly Starrett, a very supple leopard, and the creator of the online obility course, is a CrossFit coach and ex-professional athlete. He knows his stuff. And he gets people motivated and mobilized.
A great alternative to Mobility WOD, albeit a slightly different angle, is ROMWOD (Range Of Motion Workout Of the Day). Check out our ROMWOD review for more info on the daily video site that showcases range of motion, stretching, and yoga-style workouts.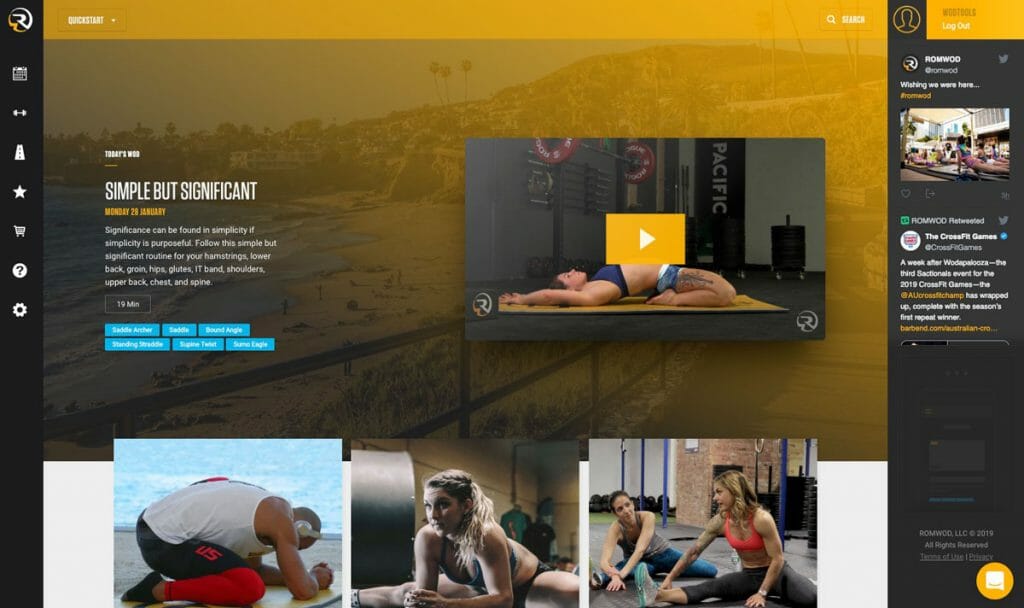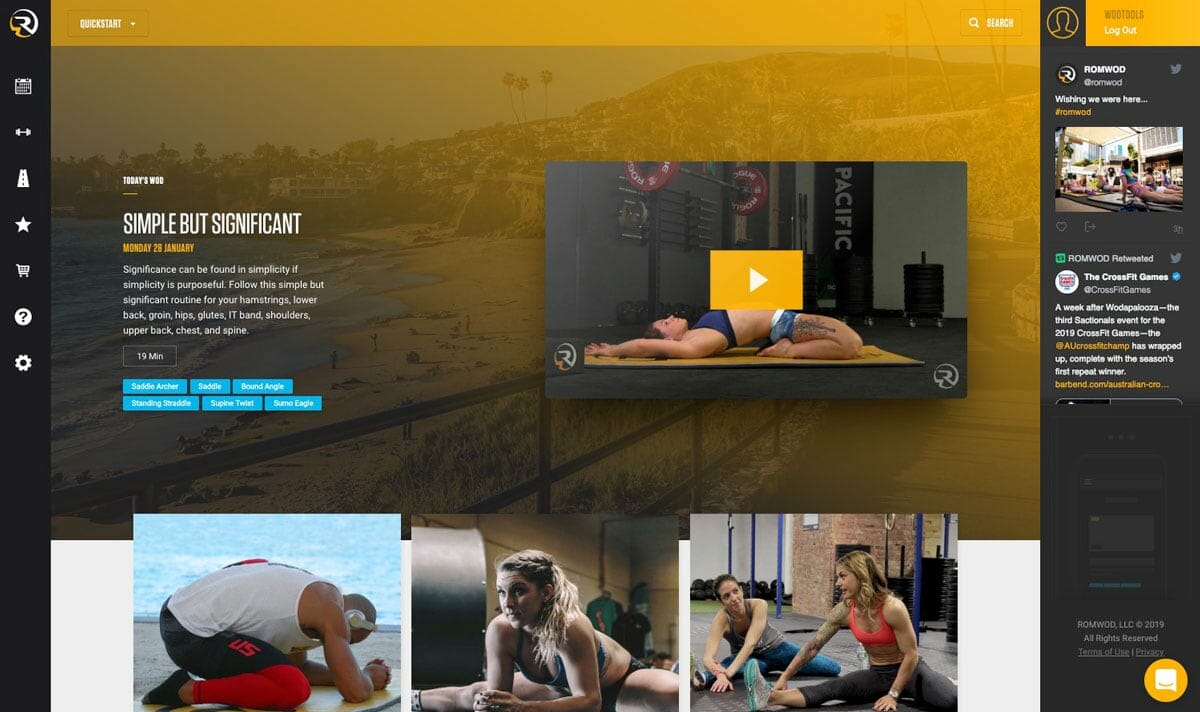 If an online course doesn't ring their bell, get your friend Kelly Starrett's book "Supple Leopard: The Ultimate Guide to Resolving Pain, Preventing Injury, and Optimizing Athletic Performance". It's a sort of bible for people that hate injuries.
5. Tshirts
Now you might be asking why we'd suggest t-shirts when we don't recommend shoes. Surely, t-shirts are a very individual thing? Yes, but a t-shirt won't influence performance like shoes, belts, and compression pants. Of course, breathable t-shirts made from cotton are ideal for sweaty people.
Then again, you need t-shirts outside of the gym too. We can't live in the weights room. Sometimes a cool t-shirt is all someone needs to show their identity or tribe.
This print shirt from Amazon is one of our favorites and makes a great gift for anyone that lives by their reps
For a more technical t-shirt try this slim fit design from Reebok with Speed wick technology.
Here's an original tshirt that will have people doing double-takes
6. Food Bars
Food – We can't get enough of that stuff.
Protein – we all need it, especially CrossFit folks, weightlifters, and anyone that breaks down muscle in training.
Here at WODtools.com we like to eat. If you train as much as we do, you probably need a lot of fuel. High-quality protein and fats are the macros with the most-est in our kitchen.
How about a special treat for someone adventurous? Do you have a Crossfit buddy or a friend who's always the first to start the latest keto diet, paleo regime, or some intermittent fasting practice? Well all do, right?
So here's an interesting edible present that will generate some fun/shock value.
Ever heard of insect protein? Well, in Asia they have, but in the West we're not quite there yet. But bug bars or insect protein bars are big. Not in size, mind you, but the movement is growing super fast. We particularly like cricket protein from Exo Protein.
This is the way of the future. Protein made from crickets, for example, is good for the environment. Save the cows! Eat more insects! Give it a try! Or get your friend or special someone to try!
And before you ask, they don't 'taste like insects'. In fact, they're yummy.
7. Keto Diet Gifts
In case you haven't heard, the keto diet is a big trend in 2019. And CrossFitters, always ones to go all in and nerdy on nutrition, are all over it.
But it's not pseudo-science. It works. Trust us, we're guinea pigs for this kind of thing. Keto and CrossFit is totally possible.
Now, under normal circumstances, giving a diet-related gift to someone might seem presumptuous. Offensive, even. But CrossFit fans are made of hardier stuff. We know it's all for the sake of experimentation, performance improvements, and that kind of stuff. Nobody's saying your fat, okay?
But seriously, if you're looking for a useful gift for the ketogenic person in your life, get them a blood ketone monitor. (We use the awesome Keto Mojo – here's 15% OFF). Then you can listen to them geek out about ketone levels and ketosis. You'll love the daily updates and tweets too 😉. Do it for someone you love!
If you'd prefer something a little more economic, or you like to give the gift of a good book, try the Ketogenic Kitchen – The best book on the topic, in our opinion.
8. Funny Gifts
Why so serious? CrossFitters have a reputation for being a stern bunch. But it's just that we're a bit driven. We take things seriously because we're all about self-improvement. That doesn't mean we can't laugh at ourselves after the WOD (but not during it).
9. Subscription Box
Everyone seems to be the proud receiver of a subscription box these days. Barbella Box is a CrossFit-related subscription box for girls.
Starting at a very reasonable $50 a month, the box contains 4-6 brand products including "CrossFit-style apparel, gear, accessories, supplement samples, snacks, workout tips, & recipes."
If you're looking for a one-off gift to send, just subscribe for a month and cancel. No questions asked. Take a look at past boxes on the website for some ideas of what to expect.
Coffee!
Who doesn't love coffee? You're friend, training buddy, significant other, or valentine never done a 6am WOD without one, right? So let's make coffee the gift of choice
Coffee is the spark that ignites the fuel of Crossfit. Or something like that. The world's most popular beverage just happens to work very well with our favorite sport. It's a marriage made in the gym. So what's the coffee of choice?
The number one coffee brand for fitness freaks is probably Bulletproof coffee. Popular with intermittent fasters, keto-heads, paleo-dudes, and biohackers. You probably know one of these.
With BP, you get Guatemalan, hand-harvested high-quality beans, MCT oil ( called Brain Octane), and 100% grass-fed clarified butterfat (also called ghee). Quite the package deal.

As a sort of gift hamper, this offer from BulletProof will get you brownie points. But you can build your own collection to present to someone.
Another practical caffeine-related present is the AeroPress. This coffee making device is super-lightweight, tiny, great value, and best of all, it makes delicious coffee. One of the greatest inventions of the 21st century in our opinion. Yeah, we like coffee.
Crossfit Gift Ideas Guide
Some tips before you make any decisions
Having some specific idea of what your intended gift receiver likes and the style of lifting they associate with is important. Don't buy CrossFit gear for a powerlifter. Books on the topics are always good for some cross-referencing. You can't get too much knowledge, right? But everything else should be specific. Know your market!
Avoid buying lifting shoes or any kind of shoe for this person. Choosing CrossFit footwear or weightlifting shoes is an involved process. The tiniest details such as weight distribution of the feet, width, length, laces, material, and even snugness make a huge difference. It could mean the difference between a new PR or just the same old lift scores.